From Rocky Roads to Smooth Sailing: How I Travel With Sarcoidosis

Back when I was healthy, I'd work up to three jobs at a time and volunteer on top of that. My husband's work schedule was based on seniority, and because he was relatively new to his job, he usually had crummy hours and even crummier days off. He was coming when I was going, and we'd go months without sharing a day off.
Fortunately, we were able to schedule our vacations together. That was our quality time, and it became that much more important for our relationship. We developed a love for cruising, and always looked forward to the excursions and activities.
As sarcoidosis and disability took over my life, the reason we needed those vacations changed. We no longer simply needed time together, we needed time to focus on us, free from doctors, blood draws, and diagnostic tests.
Though the need became stronger, the types of vacations had to change. Between mobility and breathing challenges and overwhelming fatigue, I could no longer hike through the rainforest to see waterfalls, climb a rock wall on a cruise ship, or take the stairs leading to a zip line.
My limitations have only been amplified during the pandemic. Being immunocompromised puts me at greater risk of becoming severely ill from COVID-19, so I have to be extra careful.
However, we recently found a way to make travel happen, even now. It was our first vacation in over two years, and we needed it. For those with sarcoidosis or other disabilities, the following tips may enable you to travel, too.
Consider what you can't do, but focus on what you can.
While I would suggest this for most situations, it's even more important when planning a vacation. It's easy to get caught up in all that we've lost, but this is meant to be fun. With research and planning, it can be just the escape we need.
Where can you go?
I use a cane to walk short distances and an electric scooter for longer ones, so we check hotels, Airbnbs, and major attractions for wheelchair accessibility. I always choose a balcony room so that I can still enjoy the scenery and fresh air when I'm unable to go out.
How can you get there?
I'm not ready to travel by plane or train, so we needed someplace within reasonable driving distance.
What can you do?
I still don't feel comfortable going indoors, or really anywhere with too many people, so we looked for outdoor sites we could explore on our own.
Plan your time with a flexible structure.
It's been said that failing to plan is planning to fail. That certainly rings true for a trip like this. Sarcoidosis doesn't give us the luxury of winging it. On the flip side, a plan that's too rigid doesn't leave room for the unpredictability that comes with sarcoidosis.
Build in downtime.
If those of us with sarcoidosis don't plan for fatigue, it'll hit us even harder. I generally plan for a busy day and a light evening, or vice versa, and incorporate "off" days of relaxing by the pool or even staying in the room so that I can enjoy my time out that much more. I also plan recovery days for when we return home.
Make backup plans.
Fatigue, an unexpected flare, or even bad weather can get in the way. We must keep in mind what else we can do, and if we can reschedule what we'd originally planned.
Check with your doctors.
To be sure we're traveling safely, it's important to ask our doctors about any additional considerations. For me, that means packing extra sun protection because some of my medications cause photosensitivity, and altering my infusion schedule.
Go with the right people.
No matter where you go or how much you plan, the company you keep makes all the difference.
Who really gets you?
A trip can be a break from "sick life," so it's important to go with people who understand and respect our conditions and limitations. The last thing we need is anyone making us feel bad that we don't feel better.
Who makes you happy?
For me, that's easy — my husband is my happy place, so anywhere with him is a good time. Before COVID-19, we sometimes traveled with other couples, friends, or family, but for now, that's just too many people for me. The key is to go with whoever makes you feel your best.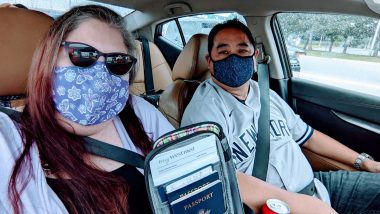 Ultimately, we ended up taking a road trip to Montreal. We had breakfast on the balcony, took a walk (or a roll) through the botanical gardens and an outdoor market, rode La Grande Roue de Montréal (the tallest Ferris wheel in Canada), and ate a lot of delicious food outdoors. Best of all, we got to feel more like us again.
***
Note: Sarcoidosis News is strictly a news and information website about the disease. It does not provide medical advice, diagnosis, or treatment. This content is not intended to be a substitute for professional medical advice, diagnosis, or treatment. Always seek the advice of your physician or other qualified health provider with any questions you may have regarding a medical condition. Never disregard professional medical advice or delay in seeking it because of something you have read on this website. The opinions expressed in this column are not those of Sarcoidosis News or its parent company, BioNews, and are intended to spark discussion about issues pertaining to sarcoidosis.